Men's Matte Wired Band (6mm)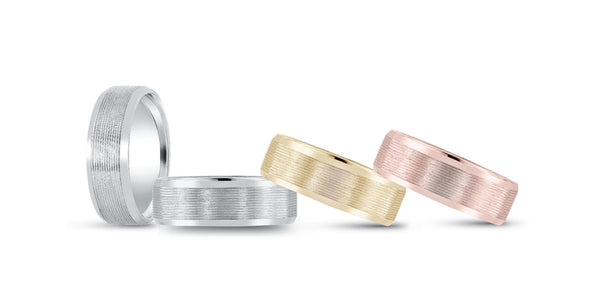 Order Processing & Returns
In-stock items are processed and shipped within 3-5 business days or available for pick-up in store by appointment.
Special Orders (made to order, special orders or back-ordered items) may take as little as 2 weeks and up to 12 weeks to fulfill depending on the product). If you have a strict deadline before receiving a product, please reach out to us before placing an order and we will do our best to accommodate.
In House Custom Designs may take 2-12 weeks (timing will vary by complexity) and will be processed and shipped within 3-5 business days of completion or arranged to be picked up in person. Read more about our custom designs process here.
Returns & Exchanges
At The Classic Gem, we do everything we can to offer you quality, authentic jewelry. For special orders or custom designed pieces, all sales are final. If you are unsure about a product, feel free to reach out to us and we will do our best to provide guidance and answer any questions you may have so that you can feel confident in your choice.
We offer exchanges on in-stock items (or items purchased out of the showcase) within 10 days of purchase. 
More policies and store benefits can be found here on our FAQs page.
Shipping
Fully Insured Shipping
We fully insure each item for the final purchase price, from the time it is in transit until the time it arrives at its destination. 
Orders of less than $10,000 will be shipped with full insurance via UPS or FedEx second-day air. Items above $10,000 will be shipped and insured via UPS or FedEx next-day air. 
Updated: Due to new insurance guidelines, all residential packages will be shipped to a local secure FedEx that requires a state ID for pick-up.
International Orders
All International orders are final sale.
Prices and shipping fees do not include import and customs duties, Value Added Taxes ("VAT"), tariffs, and other fees that may be levied by the destination country, all of which are the responsibility of the purchaser.
Questions?
Reviews
(0)