The Classic Gem - Lincoln Park
2514 N Halsted
Chicago IL, 60614
Available by Appointments
Mondays - Fridays, 11 am to 6 pm
Saturdays - 11 am to 5 pm
Closed on Sundays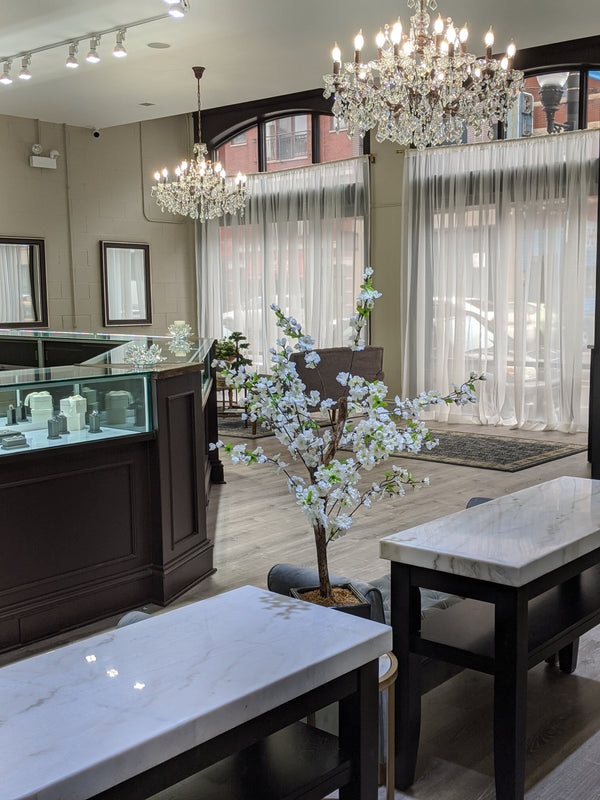 "...After our experience with CG, I can't go to other jewelers anymore. They are simply the best. Thank you to everyone at ClassicGem. You guys make the experience for your clients truly memorable. Thank you for treating us like family and making sure we get the best of what the diamond world can offer!!"
Alberto & Anne
Exceptional service and quality. I recommend The Classic Gem to anyone looking for an engagement ring or wedding band. My fiancé worked with Kara to design my engagement ring and I worked with her to design my custom wedding band. My rings are so unique and more beautiful than I could have imagined. Kara is so talented and dedicated to delivering a ring her customers will love.
Jess N.

"Kara from The Classic Gem was extremely helpful in assisting me with securing the perfect engagement ring for my fiancée. Even with me being out of state, the communication was succinct over email and verbal. I felt as though the store had my best interest in mind with this big decision, I would not hesitate in reverting back to the team for my next purchase."
Jamal B.

"...Here is why we chose to work with them; they are really patient and take the time to educate you on the things that matter from all perspectives and their approach was to inform and help guide you and I found that to be incredibly unique experience in our search. Also, online companies were overwhelming to deal with misleading/conflicting canned responses and I often felt baited by low prices but not really knowing what I could be getting or why the same qualities were listed for vastly different prices. Avoid the headaches we went through and give them a try and call them and you'll be glad you did!"
Alicia K.

"Let me just say my husband and I were completely clueless when we started looking at engagement rings. We went to several different shops on jewelers row, but didn't really get the customer service, experience level and knowledge base we were looking for until we came upon Lollie at Classic Gem. Lollie gave us a course in diamonds for dummies 101, but didn't once make us feel silly for not knowing the basics. She is very knowledgeable and talented at her craft. She has a keen eye for design..."
Beth H.

"Forget 5 stars, The Classic Gem deserves every star in the galaxy! First off, I want to say Jenny is one of the most amazing sales reps I've ever had the pleasure of meeting and doing business with. In fact everyone at The Classic Gem is freaking AMAZING! Customer service is wonderful. Jenny and her sister made my experience so fun and they explained everything in a way that was crystal clear for someone like me who didn't really know too much about jewelry, especially engagement rings. It was such a personal experience for me shopping there for my engagement ring. I felt like they were coming along with me for the journey of me getting engaged..."
Rana T.