Signature Tapered Solitaire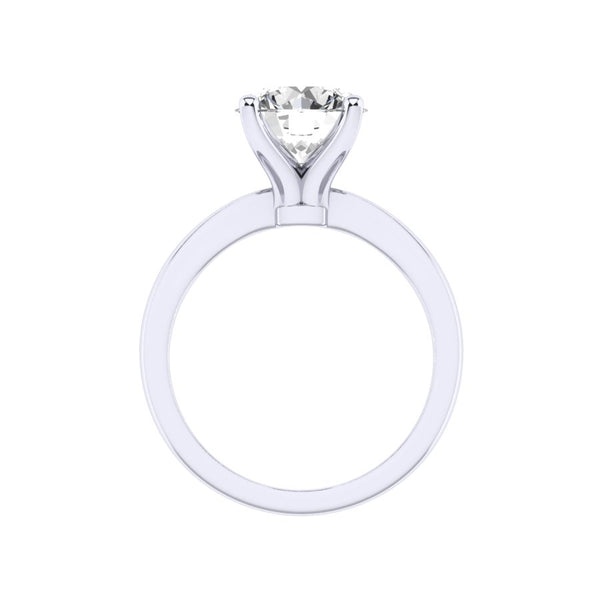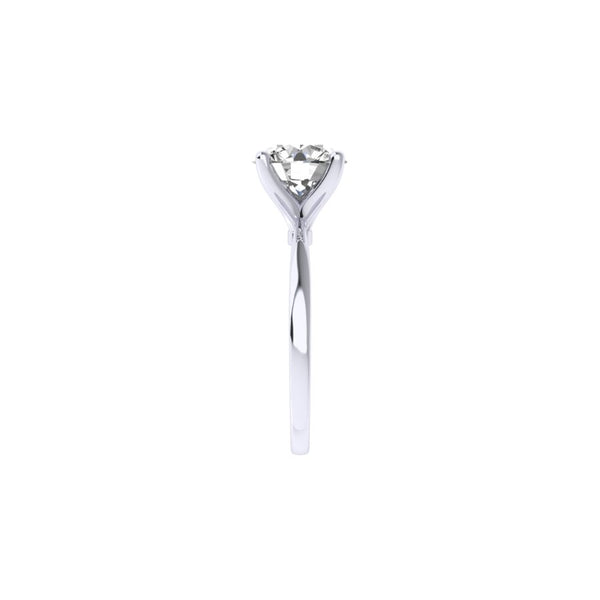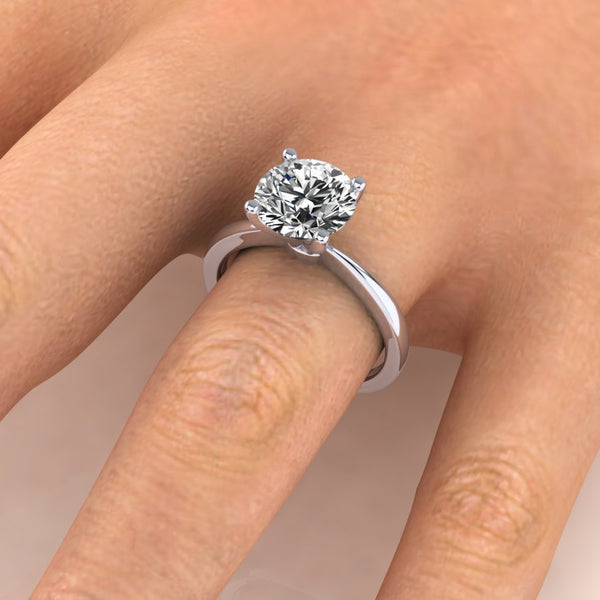 Forged through a meticulous iterative design process, this ring gracefully marries structure with aesthetics. Its signature design highlights a pinched or tapered shank that presents a slim top view, while a concealed side thickness enhances not only tensile strength but also allows for the versatility to pair with a multitude of bands of varying heights. 
Features a secure tulip-shaped silhouette on the prongs, a hidden broader base structure fortifies the prongs and the central stone, eliminating the need for a bulky gallery rail or additional metal beneath the center stone.
Mindfully designed with tensile strength as a key factor, yet sustaining a delicate and seamless aesthetic. Crafted with approximately 20-25% more metal to ensure unparalleled structural integrity and durability.
Despite its robust construction, the design radiates delicate elegance, making it a timeless and luxurious addition to any jewelry collection.

This iconic piece is the quintessential choice for those who appreciate the harmonious blend of style and strength in their jewelry. Crafted to truly elevate the center diamond, it serves as a symbol of enduring beauty and love.

Made to Order in 4-6 weeks: We are happy to create a new one for you, tailored to your preferences, customized to your center stone of choice, to fit your exact finger size, and calibrated perfectly and precisely to ensure the best structural integrity and craftsmanship. Never from a mould, and tailor-made with fine quality gems. Learn more below or contact us at info@theclassicgem.com for a free quote and design consultation.
Processing + Shipping + Returns
In-stock items are processed and shipped within 3-5 business days.
Special Orders (made to order, special orders or backordered items) may take as little as 2 weeks and up to 2 months to fulfill depending on product). If you have a strict deadline, please reach out to us before placing an order and we will do our best to accommodate.
Custom Designs may take 2 to 8 weeks (timing will vary by complexity) and will be processed and shipped within 3-5 business days of completion.
Questions?Email us at info@theclassicgem.com, call/text us at 312 291 1436 or schedule a visit here to view items available in store.
Fully Insured Shipping
We fully insure each item for the final purchase price, from the time it is in transit until the time it arrives at its destination. 
Orders of less than $10,000 will be shipped with full insurance via UPS or FedEx second-day air.Items above $10,000 will be shipped and insured via UPS or FedEx next-day air. 
International Orders
All International orders are final.Prices and shipping fees do not include import and customs duties, Value Added Taxes ("VAT"), tariffs, and other fees that may be levied by the destination country, all of which are the responsibility of the purchaser.
Returns & Exchanges
At The Classic Gem, we do everything we can to offer you quality, authentic jewelry. For made to order, or custom designed pieces, all sales are final. If you are unsure about a product, feel free to reach out to us and we will do our best to provide guidance and answer any questions you may have so that you can feel confident in your choice.
We offer exchanges on in-stock items (or items purchased out of the showcase) within 10 days of purchase. 
More policies and store benefits can be found here on our FAQs page.