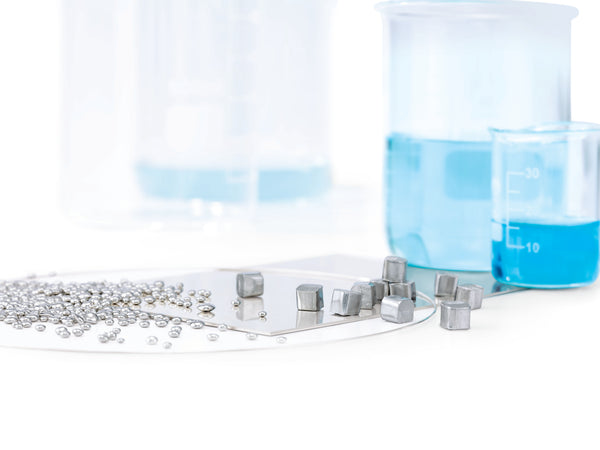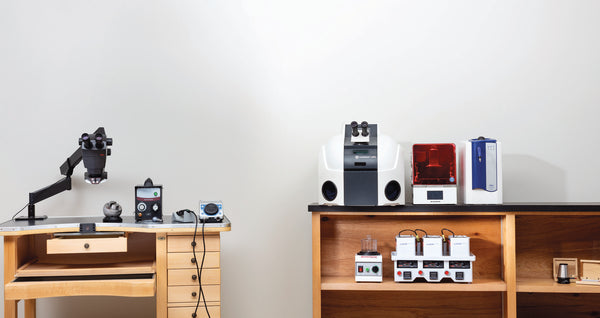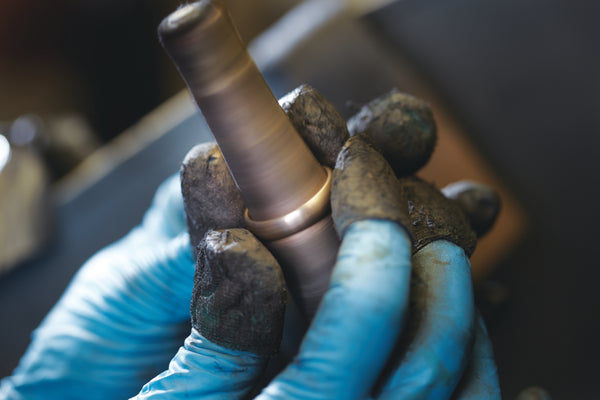 Rhodium Plating and Polish (8 hours) 

Rhodium plating, also known as "dipping" is a process that is applied to all white gold rings. Gold is a naturally, well, a gold/yellowish colored alloy, and it is mixed with different semi-precious to precious metals that are "white" in color to give it a whiter look, and then rhodium is applied to it after an extensive cleaning and polish. Rhodium can only be applied to a clean, polished and dry ring (absent or any dust or dirt particles) by the process of electro-plating. Prior to applying rhodium, a deep clean and polish is performed to take of any scratches and debris from the ring/jewelry. It's natural for white gold to fade, sometimes yellowing. Depending on wear and tear, and how acidic your skin is, rhodium plating can be done on an as needed basis. 
What is Rhodium Plating? Rhodium is a silver white metal that belongs to the platinum group of metals. It does not oxidize and maintains a bright white appearance. Rhodium plating is often performed on gold and silver jewelry to enhance their white, reflective appearance. For white gold jewelry and rings, jewelers will apply a microscopic layer of rhodium to 14K or 18K white gold by an electroplating procedure.

A repair trade discount may be available for items purchased through TCG, please reach out to your sales associate to see if there is a discount code.

Please select applicable service and schedule time here.
***Please note that services are generally not available on weekends, though we welcome drop-offs during this time, services will not be performed until the next business day. If you need your ring same day or during weekend slots, please contact us directly for availability and we will do our best to accommodate.
Ring care best practices can be found here.
Processing + Shipping + Returns
In-stock items are processed and shipped within 3-5 business days.
Special Orders (made to order, special orders or backordered items) may take as little as 2 weeks and up to 2 months to fulfill depending on product). If you have a strict deadline, please reach out to us before placing an order and we will do our best to accommodate.
Custom Designs may take 2 to 8 weeks (timing will vary by complexity) and will be processed and shipped within 3-5 business days of completion.
Questions?Email us at info@theclassicgem.com, call/text us at 312 291 1436 or schedule a visit here to view items available in store.
Fully Insured Shipping
We fully insure each item for the final purchase price, from the time it is in transit until the time it arrives at its destination. 
Orders of less than $10,000 will be shipped with full insurance via UPS or FedEx second-day air.Items above $10,000 will be shipped and insured via UPS or FedEx next-day air. 
International Orders
All International orders are final.Prices and shipping fees do not include import and customs duties, Value Added Taxes ("VAT"), tariffs, and other fees that may be levied by the destination country, all of which are the responsibility of the purchaser.
Returns & Exchanges
At The Classic Gem, we do everything we can to offer you quality, authentic jewelry. For made to order, or custom designed pieces, all sales are final. If you are unsure about a product, feel free to reach out to us and we will do our best to provide guidance and answer any questions you may have so that you can feel confident in your choice.
We offer exchanges on in-stock items (or items purchased out of the showcase) within 10 days of purchase. 
More policies and store benefits can be found here on our FAQs page.